Women in Leadership: Manufacturing Managers
We love celebrating our associates and sharing their stories! In our Women in Leadership blog series, we highlight women leaders throughout Publix and hear about their journey to a leadership role. Today, we meet two leaders who found their secret ingredient in Publix's bakery.
Meet Gaye, General Manager of Lakeland Fresh Kitchen
Gaye has spent most of her Publix career, nearly 40 years, at the Lakeland bakery facility! She was 17 and fresh out of high school, she wasn't sure what path she wanted to take when she turned to Publix.
"My uncle and my dad's best friend worked at the Lakeland bakery facility (then known as Danish bakery), so I heard a lot about the work and decided to apply."
In 1984, Gaye was hired as a temporary part-time Christmas worker, packing, and wrapping holiday items for the season. Since she was only 17, she couldn't go full time until she turned 18 later that year. At 18, she became a full-time sweet goods packer and worked in several operator positions before progressing to floor leadership.
"In 1994, I was blessed to transition to department manager in sweet goods. I was able to expand my knowledge as a manager by moving to various departments, each with growing responsibilities."
Then in 2013, Gaye was promoted to general manager working with a team of more than 550 associates to produce muffins, cookies, breads, icings, and more delicious items for our store bakeries.
"When I got to the bakery facility at 17 years of age, I quickly realized that I loved seeing how pretty we could make products or how fast we could get it done. I also quickly realized that I couldn't do it by myself and that it took a team to get it done right. Working with the team motivated and challenged me to learn more, try harder and think creatively. It pushed me to continue growing with the bakery facility."
Gaye believes that having character and class, with a dash of a servant mentality, are traits that have helped her grow in her leadership role. She always behaves with good character, even in the most trying situations, and remembers to treat people with class during successful and challenging times. Throughout her career, she remained focused more on others than herself.
"As a leader, I keep an open mind and try my best not to get caught up in thinking that I know the answers. Longevity gives us experience but doesn't always make us right. Seeking out other opinions, other ideas and asking for help will help me continue to develop at the same time I'm helping others develop."
Her leadership skills, operational knowledge and love for associates is what drives Gaye's successful career. In 2023, she was named general manager of the newest Lakeland manufacturing facility, Fresh Kitchen.
"I'm very proud of my career with Publix and the bakery facility. I'm proud that I started out as a temporary associate and worked my way up to being the general manager of the facility."
Gaye believes that if being a woman in leadership can encourage or motivate other women to go after their goals and realize what opportunities are out there, especially within Publix, then that just makes her work extra special.
Meet Rachel, Department Manager for Sanitation at Lakeland Bakery
Rachel's Publix career started in 1993 when she joined her local store's bakery as a part-time bakery clerk. She learned a lot and decided to start seeking a full-time position at the bakery facility as a line worker in the sweet goods department baking muffins and loaf cakes.
After spending time as a line worker in the sweet goods and frozen department, Rachel transitioned to a control room operator role where she learned about pneumatics and automation.
"In 2000, I retired when I had my son but quickly realized I missed Publix. Luckily, I was able to return to the control room a year later."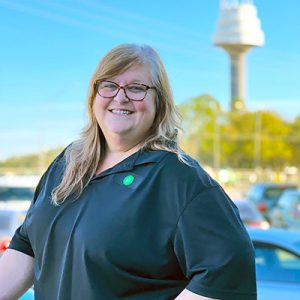 Rachel spent additional time at the bakery facility before being promoted to an assistant department manager at fresh foods in 2009. She stayed at fresh foods until it underwent a transformation in 2016, then she joined the dairy facility where she learned even more about manufacturing.
"It was fascinating to see how some of my favorite products were made. I'm still amazed by the science behind it."
In each role Rachel held, she always tried to leave the position better than it was when she took over. That work method is what led to her next big promotion. In 2017, Rachel was promoted to the department manager for sanitation at the Lakeland bakery facility where she continues to grow and develop as a leader by helping others succeed in their career.
"I try to help our newer leaders and potential leaders get ready. It's an important part of development to understand your leadership style and how to utilize this for the best results. Helping others helps me grow and develop."
Since starting at the bakery facility, Rachel has had many mentors who have helped her grow and develop into a woman in leadership.
"I have worked with great female leaders who have inspired me to continue growing and contributing. For example, Gaye, she's an inspirational leader to us all. She empowers her leadership team and gives us the support we need to improve."
Working with the associates at Publix and building long-lasting relationships with them is Rachel's favorite part of the job. As a leader, she ensures her associates take the time to cultivate their career and put in the time and effort to grow it with the company.
"Our associates are what make Publix so great and always will be. I'm proud to be a woman in leadership at Publix."
Are you interested in joining our Lakeland bakery team? Visit jobs.publix.com/lak-bak to view our current openings and connect with us on Facebook, Twitter, Instagram, and LinkedIn!